A reflection for Wednesday in Holy Week
Luke 22.54-end
As I already wrote in an earlier reflection this week, accepting our own limitations is one of the spiritual challenges that we face in these weeks of uncertainty, loss and isolation. A letter written from Italy in the Guardian last week put it rather well and in Luke's Gospel this morning we hear the story of Peter, the disciple who epitomises our inability to be committed and faithful.
I am sure that I am not the only one who finds it very easy to relate to Peter's story in which he denied Jesus three times before the cock crowed. Peter was one of Jesus most faithful followers; knowing that he would deny Jesus must have grieved him deeply. Indeed, it had a great impact on both men, as we hear that also Peter himself wept bitterly when he realised that Jesus' predication had come true.
Here, I don't want to dwell too much on the moment of denial, but on what happened afterwards. We don't know precisely what Peter did in the hours and days following that night in which he had denied the man who had taught him everything, the man who had become his closest friend. What we do know, however, is that he stayed around. On the morning of the Resurrection, Peter is still there, together with the other ten disciples. Peter did not give up altogether.
That is, I would like to suggest, what makes Peter so different from Judas. Not so much that one man was better and holier than another, both had played their part in the betrayal and denial of Jesus. However, Peter did not let his mistake – grave and painful as it was – define his future, whereas Judas could not live with what he had done, and did not dare to trust in redemption. Indeed, after the Resurrection, we read in John's Gospel how Jesus gives Peter an opportunity to redeem himself by asking him the question, again three times: 'Do you love me?'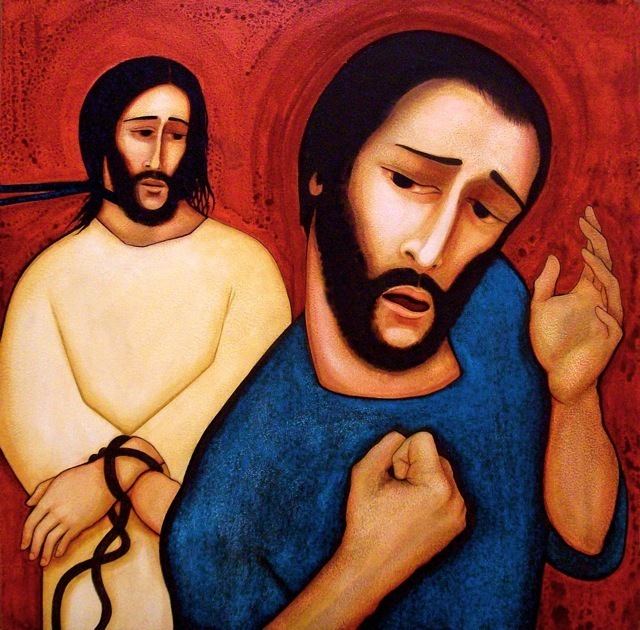 The story of Peter is the story of each of us. We all have made mistakes, some so painful that we almost cannot look back at them. Yet, the message of the Gospel is that there is always the opportunity for redemption, but only if we truly want it. Just as much as our mistakes have come at a cost – to others and often to ourselves –, so also redemption comes at a price. However, the currency is different. It is not one of guilt, but of true desire: a desire to try again and do it better; a desire to persevere in doing good.
So if yesterday didn't go quite as you had hoped, today is a new day. Sticking with it is not about forgetting the past, but having the courage to learn from it. If we do this, day after day, week after week, we will realise that also for us there is the opportunity to make it right again. If, with Peter, we take that opportunity to say 'yes', then also will we hear those words 'Follow me', because it is then that we really know who we are and what we are made for.
If you'd like to read a little more about the dynamic between Peter and Jesus, here is a longer reflection that I wrote for Good Friday a few years ago. I can also warmly recommend the short book 'Jesus and Peter' by the late Bishop Michael Perham.