Sermon St Mary's Marlborough, Sunday 15th March 2020
Third Sunday of Lent: Romans 5.1-11 & John 4.5-42
In our Gospel reading this morning, we hear the conversation between Jesus and the Samaritan woman. Jesus speaks about the living water and the food to eat of which the disciples do not know. The language is typical for John's Gospel, with a focus on the spiritual elements of our faith. As we gather here this morning in the midst of the Corona virus crisis, I wonder what those words mean to us? In the last few days, I suspect our focus has been very much on our 'physical' needs, so to say: how do we stay safe and how do we make sure that we have enough to eat and to drink if we don't have access to food as we may be used to?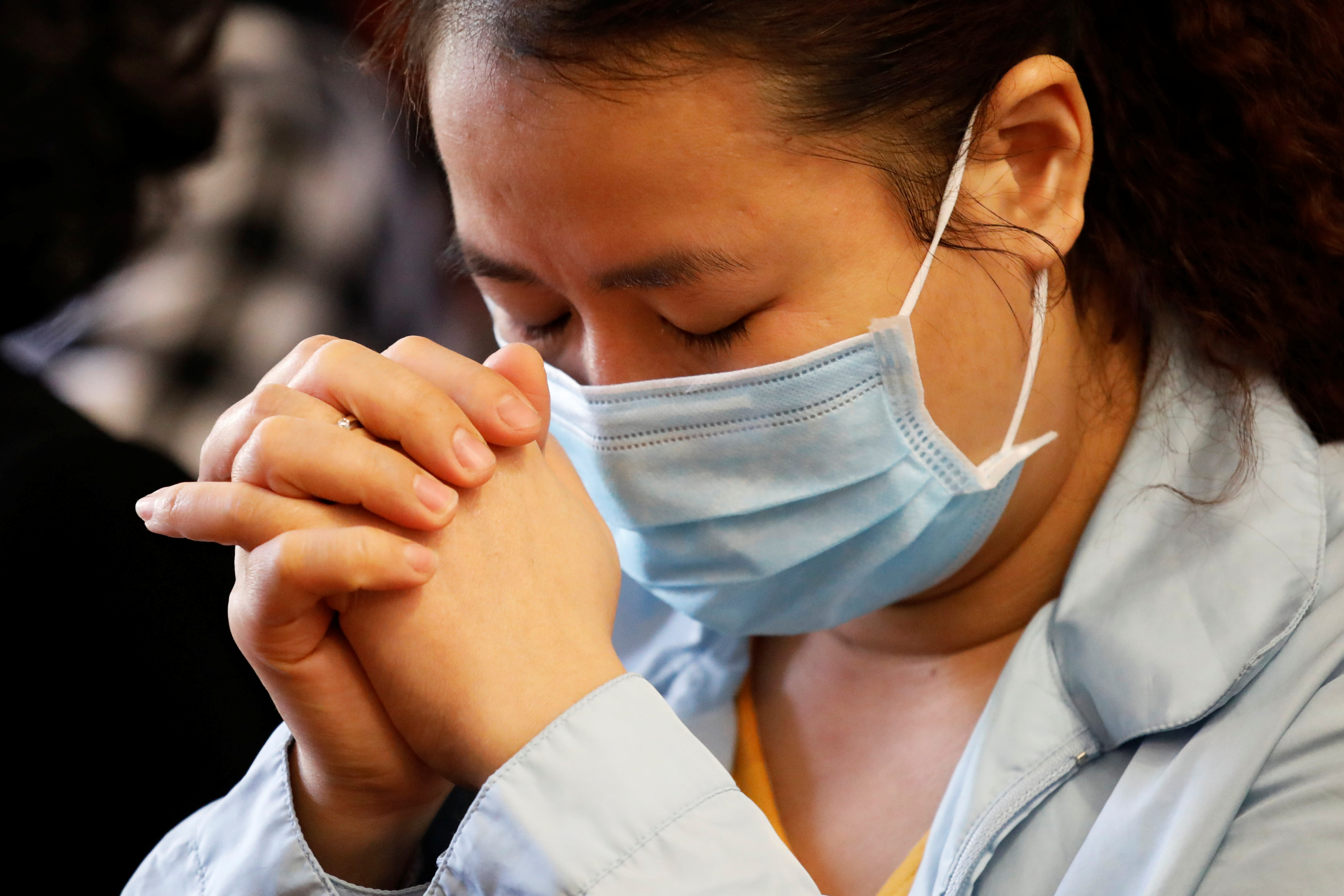 The challenge that Jesus puts before us as he speaks to the Samaritan woman is timely for us: those who drink of the water that I will give you, will never be thirsty again. Surely, this is going too far; surely now our focus should be on ourselves and our own safety? Or do we dare to be challenged and think what it may look like for us to leave our water-jars at the well to go and tell people about the living water? So this morning, I would like to think a little bit about how we can have a genuinely Christian response to our crisis. It comes with a disclaimer: it is no official health advice, but rather food for thought in these challenging times.
Our starting point needs to be of trust. If you're anything like me, every time you read or hear the news, you are filled with fear and worry for what the future may hold. Yet, we know that God is here and that we need not to fear, but we can trust. I am not speaking about blind trust here. Of course, Christians are not immune to any illness, and it would be reckless to think that we are. What I am trying to say is that our trust can be one of handing the future over to God, thereby combatting the blind fear of what is happening here and now.
Many of us will agree that God did not create the Corona virus as such, but that does not mean that God is not with us as we respond to our situation, and he will continue to be with us, no matter what the future may hold. So, amidst the unknown, our first message is one of reassurance: God has not forgotten us.
That brings us to the first thing that we can do in response to this crisis, and that is we can pray. We can pray for healing and wholeness for those who have been infected; for the leaders of this and other nations as they seek to respond with legislation on our behalf; for our neighbours, particularly those who are vulnerable; and for doctors and our emergency services. Of course, we can also pray for ourselves, but one of the key aspects of prayer is that we realise that we are part of something greater, that we feel our solidarity with all of the human race.
Hopefully we will be able to continue to pray together, but most certainly we will be able to pray at home. Praying at home does not mean praying alone. As soon as we turn to God, we do this knowing that somewhere else someone is doing the same, and our prayer is joined – as we hear in our Eucharistic prayer every week – with angels and archangels and all the company of heaven. It is liturgical language, but helps us to realise that we never pray alone.
Through prayer, we are also called to action. As I said at the start, our readings this morning focus on our spiritual needs and our faith, but Jesus made it very clear that this needs to be lived out practically, by helping others. So, how can we be called to action, particularly when our movements and social contacts are being restricted?
Just like our prayers, our first realisation needs to be that we are not alone, and that means we need to share. I have to admit that I too have filled up my freezer a little bit more than usual, just in case. However, we should be ready to share. Maybe the most practical question we can ask ourselves at this moment is: how can I share my loo roll with those who were too late? Of course, it is good to be prepared, and at many occasions in the Gospel, Jesus tells us to do exactly that. But we also need to be prepared to share. How much do we really need, and how much have we bought out of an irrational fear of scarcity?
It may sound very trivial to talk about loo roll and shopping, but it has a great effect on how we see and treat our neighbour. Is the person in front of us at the check-out a competitor in the race to buy the last rations, or another person who, just like us, is worried and might need some reassurance and help? As we are thinking about how responsibility to look after our neighbour, we may also consider picking up the phone a little bit more often in the coming weeks. We may not be able to visit those who are lonely and isolated, but there is nothing that stops us reassuring them with a phone call: making sure that they know someone is thinking of them, and that they too are not alone.
As I already implied, I am one of those people who does not believe that God wished for the Corona virus to be affecting us in this way, but rather that this is just one of those things that make our world as it is. However, that does not mean that God cannot work through it, and that something good may come out of it. And maybe we have already seen glimpses of this around us. One of the hopeful things that has struck me in the last week or so, is a renewed sense of solidarity with one another, and a renewed sense of belonging. Although we may criticise each other's response or behaviour, I get the sense that overall 'we are in this together'. With social distancing coming in place, we are also reminded how important real contact is.
We miss shaking each other's hands at the peace, and the thought of not being able to see family or friends for some time reminds us how important they are to us. In a society where allegedly all contact is replaced by mobile phones and social media, this realisation of the importance of face-to-face relationships is a real gift.
So where do we go from here? First of all, trust in God. He is the source of the living water, the abundance that sustains our lives in every possible way. This trust will enable us to turn to our neighbour in prayer and action. And that in turn will confirm the assurance that we are not alone, and we have not been forgotten.
Lord Jesus Christ,
you taught us to love our neighbour,
and to care for those in need
as if we were caring for you.
In this time of anxiety, give us strength
to comfort the fearful, to care for the sick,
and to assure the isolated
of our love, and your love,
for your name's sake. Amen.